Shipping Solutions


Standard Edition
Big Savings from Day One!
Our best selling multi-carrier single workstation solution that maximizes your shipping to help you sell more while you save!...
Options


Enterprise Edition

Multiple workstation solution with a single workstation for end-of-day consolidation...
(Includes First Two (2) Workstations)


AVM

Address Verification Module (AVM) deals
with bad addresses along with identifying residential and commercial shipments...
Learn more about the AVM...
Monthly, Quarterly and Annual
Payment Plans Available...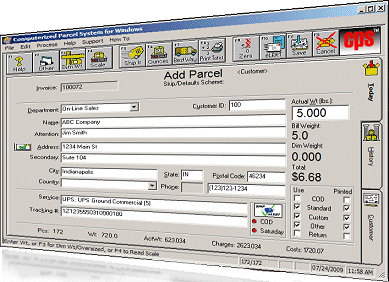 Solves Tough Problems

Carriers & Services

Parcel Carriers


FedEx


United Parcel Service (UPS)


United States Postal Service (USPS)

Regional Parcel Carrier


Spee-Dee Delivery Service

Alternate Carrier Services


General Carrier Services (GCS)

Internet Postage


DYMO Endicia*

Alternate Insurance


PIP*


U-PIC*
Available Optional Services

Other Carrier Services

UPS Mail Innovations $$


FedEx SmartPost® $$

Shipping Security Features
| | |
| --- | --- |
| | Automatic backup of data and settings at end-of-day |
| | 24/7 download with quick restore if a workstation fails |
| | Customer and shipping data stored safely at your location |
| | Updates downloaded and installed automatically |
| | Advanced e-mail notification of updates and changes |
| | Ships UPS and USPS even when the Internet is down |
Why Ship with

?


is your first step in solving your shipping problems. CPS shipping software cuts shipping costs and puts you in control. As your shipping needs grow, CPS grows with you. CPS will help you expand your market size, increase sales and lower shipping costs. For over 26 years, CPS customers shipping 50 to 15,000+ orders per day have trusted the control, service, cost-savings and reliability CPS gives them every single day.

Just think - choose the best carrier and service for the job every time! No more unnecessary costs, delays or outages because you are now in control. But that is only the beginning! CPS addresses today's daily shipping and outbound logistics issues with ease regardless of your company size.

CPS shipping software is a complete solution at a very affordable price backed with one of the best support in the industry. But that is not all. CPS also helps you track your parcels, provides shipping management reports, sends automatic shipment notifications to customers for all carriers, plus so much more! On top of all of this, CPS easily connects to your in-house systems and works either on a stand-alone PC or as a multi-user system. More...

Problem Solving Features

| | |
| --- | --- |
| | Very Affordable Monthly, Quarterly and Annual Plans |
| | No contracts or long term commitments |
| | All carriers included at no extra cost |
| | No other carrier software needed |
| | Processes packages with or without the Internet |
| | Supports International and Domestic Shipping |
| | Easily downloaded and installed |
| | Reports and labels already set up |
| | Works with most Windows printers |
| | Supports electronic scales |
| | Sends SHIP eLERT email shipment confirmations |
| | Free use of our package tracking tools |
| | Imports your customers and products for easy start-up |
Features Included

Support Included

Intensive interactive help system


Set up documentation


On-Line Support 24/7 web support


E-mail Support


Toll Free Support

Processing Features

BestWay Calculator


RateBots find the best rate


Smart RateBots time/rate optimizer


FlatRate increase web sales


Handles oversize/dimensional issues

Standard Connectivity

Batch Importing/Exporting


Background Importing/Exporting


ODBC and External Link


The Automator


Ready-Made Solutions


Connects to QuickBooks NEW!
Click here for more FAQs and
CPS System Requirements...