now supports M.O.M. v3.x thru v8.x and M.O.M v9.x

is today's most complete shipping software solution for orders created by Freestyle Multichannel Order Manager (M.O.M.)! CPS adds international shipping for UPS®, FedEx® and United States Postal Service® (USPS®) to your M.O.M. freight choices, plus CPS efficiently handles domestic UPS, USPS eVS, FedEx,and USPS Endicia® parcels.

Direct Real-Time Link to M.O.M.

works with a direct connection to M.O.M. shipping data for a "real-time" shipping interface, so parcel processing is fast and easy. No batch importing or cut-and-paste required! And your M.O.M. data is updated, complete with tracking information, for each order shipped.

Best of all, the CPS to M.O.M. Interface is available at no extra cost to all CPS and CPS Enterprise users.

Important Notice!

When you use Freestyle M.O.M. you will also need Freestyle Solutions' Universal Shipping Interface (USI) - Harvey Software Edition.

Freestyle Solutions' Universal Shipping Interface (USI) is now included at no additional cost with Version 8.x and higher!



This joint effort between Harvey Software and Freestyle Solutions allows:

| | |
| --- | --- |
| | Use one system to ship all domestic and international parcels |
| | Automates "best rate" shipping |
| | Use all CPS supported carriers |
| | Use published, marked-up or marked-down rates |
| | Change carrier services within CPS |
| | Sends M.O.M. completed shipment data automatically |
| | View all packages ready to be shipped within CPS before processing |
| | Ship or Delete boxes for orders within CPS |
| | Process by Order ID, Box ID or M.O.M. Batch |

Other Great Features

| | |
| --- | --- |
| | Easy to set up and use - all fields pre-set so no field mapping needed |
| | |
| | |
| | |
---
Important Note: If you are using M.O.M. version 3.0, the Freestyle Solutions software the features of CPS may differ from those of M.O.M version 4.0 or higher. Those using M.O.M. version 4.0 higher will also need Freestyle Solutions' Universal Shipping Interface - Harvey Software Edition and Automatic Shipping Calculations Module to have all the features listed here.
---

is so easy to set up and use, you'll be connected and shipping in minutes! And since the transfer of data is automatic, there are no extra steps required.
Take advantage of great CPS features like sending free shipment notifications emails to consignees and shipping with multiple carriers from one screen. You'll ship more boxes, improve accuracy and save money with the CPS for M.O.M. interface.

---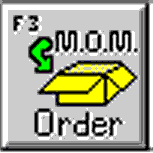 In CPS, just enter ID for the box, order or customer, and CPS collects the ship to data, plus the carrier and service required.


Click to Enlarge
For multiple box orders, CPS displays all boxes in the order. Find the order or box you wish to ship, then click the Ship button and the box will be ready to process. You can also delete any boxes that will not be shipped.

After a package is shipped, the tracking number, shipping cost, package weight and other shipping data is written back to M.O.M. There are no extra files to create and no special importing or exporting functions to perform. It is a real time process. Just process your parcels as usual, and the CPS to M.O.M. Interface takes care of the rest!

supports multiple M.O.M. companies, multiple carrier account numbers and multiple warehouses when used with the Universal Shipping Interface (USI). In fact, when CPS is paired up with Freestyle Solutions' USI you can even change weights, carrier and carrier service with the results saved automatically!

---

installs on your own computer and is compatible with most printers and electronic scales. Single user and networked multiple user versions are available.

---
With your purchase of CPS with the M.O.M. Interface, you also receive carrier rate and service updates plus the industry's best technical support. In addition to support and updates, CPS includes complete online help, unlimited access to Harvey Software's technical support web site, and an Installation Guide to get things up and running fast.

---
Isn't it time you start using

today?
---
Note: The Freestyle Multichannel Order Manager (M.O.M.) program, Automatic Shipping Calculations Module (ASCM) and the Universal Shipping Interface (USI) - Harvey Software Edition by Freestyle Solutions are purchased separately. To learn more about these products contact Freestyle Solutions.

The registered trademarks for the Freestyle Multichannel Order Manager (M.O.M.), the Universal Shipping Interface (USI) - Harvey Software Edition, the Automatic Shipping Calculations Module and the product box displayed on this page are the property of p. These are all used with the permission of Freestyle Solutions.